As an Amazon Associate I earn from qualifying purchases.
Having a dedicated space for music listening or home theater is an ultimate commitment for people who love music and entertainment. But this goal can be complex and expensive. Even if you're finished lay-outing the listening room, there is still no assurance that the room will sound good.
Choosing a high-end sound system is essential to optimize the sound quality. One brand that stood out in home audio systems and speakers is the Bose. 
From professional audio products and noise-canceling headphones to automobile sound systems, they seem to always produce products that are close to audio perfection. Say, their Bose 161 Speakers, for instance, is worth a consideration for audio enthusiasts out there.
With Bose 161 Speakers, listeners will enjoy the full and rich sound from movies or music. Whether they place the speakers on a bookshelf, on a desk, or mounted on a wall. 
If you're interested to know more about the Bose 161 speaker system, keep reading. We provide you this in-depth review to help you decide whether it's worth an addition to your home or not.
TLDR: Bose 161 Speakers Review
The Bose 161 Speakers are versatile, ideal for wall-mount or bookshelf applications.
The performance of these bookshelf speakers is even comparable to that of large home stereo speakers that cost more than Bose. In terms of sound quality, each speaker produces clear and crisp sound and there's plenty of bass too.
It likewise features an Articulated Array® speaker design that utilizes precise positioning of drivers inside the speaker. The purpose of this patented technology is to provide a consistent and large sound field when the speaker is turned on as the Articulated Array® generates more air movement from an enclosure.
Another patented Bose technology in Bose 161 speaker system is the Stereo Everywhere®. This feature allows the Bose speaker to deliver an excellent stereo sound all throughout the room and not just in the "sweet spot."
Recording engineers and audiophiles use the term "sweet spot" to describe the focal point of two speakers. It is a location where one can fully hear the stereo audio the way the mixer intended it to be heard.
While Bose did not detail the frequency response for these speakers, we can say that they're good surround speakers. It is also magnetically shielded so that it can be placed close to the TV and will still sound good.
Pros
Powerful and clear sound
Can be placed in proximity to the TV
Comes with custom mounting brackets
Produce balanced sound even over a wide listening room
Small enough to fit on an entertainment center or a bookshelf
Can be combined with other component speakers
Great value
Is it worth it to try?
Yes!
Yes, the Bose 161 speaker system is worth the purchase. As a center channel speaker, it delivers a realistic sound experience.
The Bose 161 speaker system also weighs 3.3 pounds, which means that it is not too heavy and you can easily move it from one place or mount it for additional placement options.
In-Depth Review of the Bose 161 Speaker System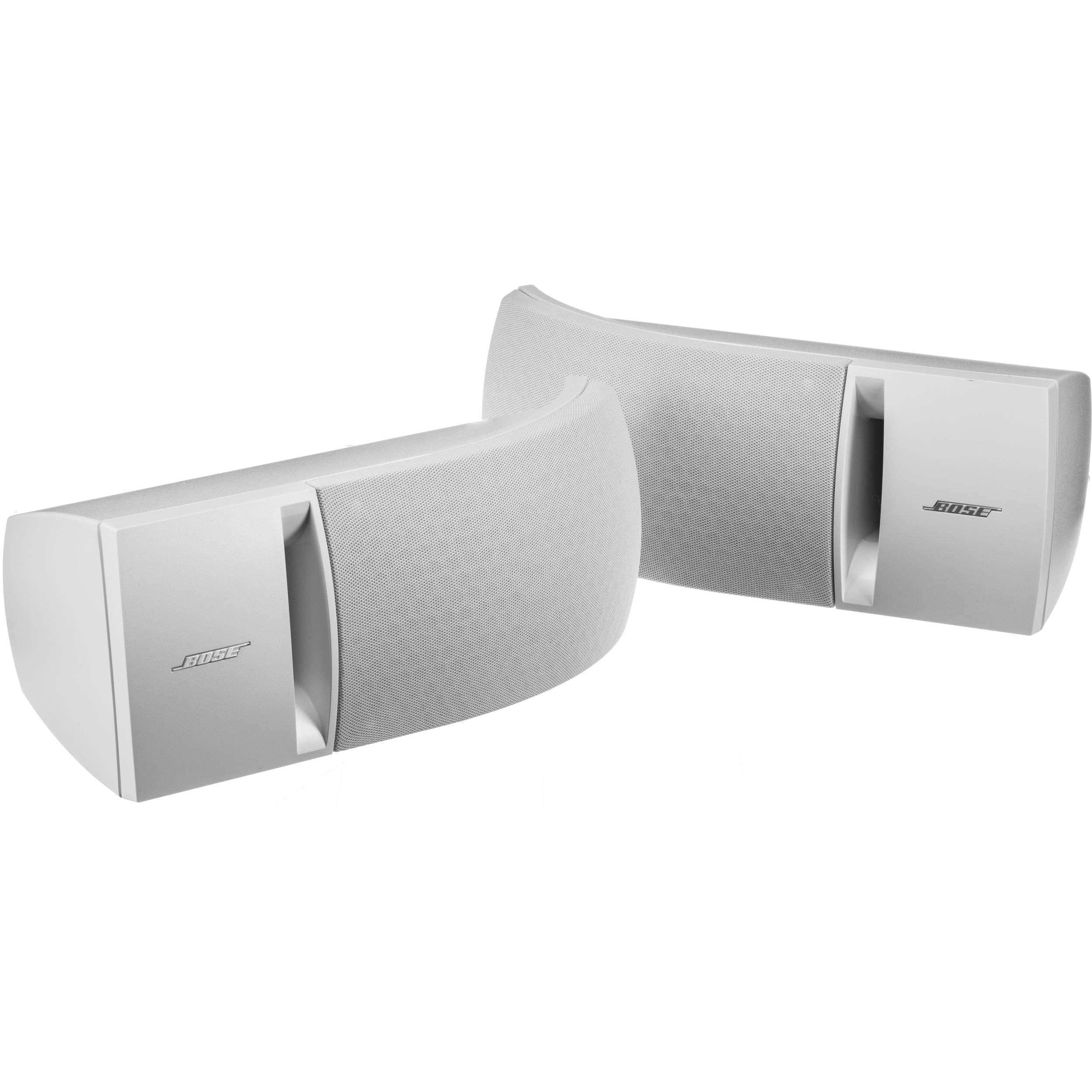 Specifications
Each speaker:
9.75″ H x 14.25″ W x 9.75″ D (12.5 lbs)
Pair in carton:
18.3″ H x 24.2″ W x 13.25″ D (28.7 lbs)
In the box:
2 Speakers
Self-adhesive rubber feet
Quality and Durability
The Bose 161 speaker system is made of tough material and is highly versatile. The sturdy speakers can even be positioned horizontally or vertically for your own listening enjoyment. 
The surround sound system is likewise Syncom® computer tested to make sure that the speakers and their components have the highest levels of reliability and quality in the audio industry.
Once tagged as Syncom® computer tested, the components are tagged with a unique serial number. The speakers also come with a tweeter and a driver in a wooden box for added protection.
The Bose 161 speaker system also uses high-quality speaker grill fabric that is a durable stretch knit. Furthermore, they mount easily as the speakers come with brackets. 
Additional Features
As you purchase the Bose 161 Speakers, you will also receive 2 black brackets in the product box. Each of these brackets is composed of Part A and B.
It comes with Twiddler® drivers that utilize proprietary technology. It means that it is a full-range driver, which helps generate air movement even from a small enclosure. The Bose 161 speaker system delivers the kind of sound you would expect from larger and high-end speakers.
There are 6 self-adhesive rubber feet, four ⅝" machine crews, and two 1" machine screws that come with the purchase of this Bose 161 speaker system.
Warranty
Aside from the 90-day Risk-Free Trial, this Bose 161 speaker system comes with a 5 years warranty to guarantee you its quality.
Who is it best for?
The Bose 161 speaker system is best for movie lovers who want to have a theater surround system at home as it delivers the best combination of design, sound quality, and user-friendliness.
Audio experience with Bose 161 speaker system is also ideal for people who are fascinated or motivated by audio gadgets and sound quality. Audiophiles may take their passion for sounds and music a step further by investing in this Bose 161 speaker system.
Sports enthusiasts who enjoy watching immersive sports can also benefit from this speaker system. This is because, with just a click of a button, they can match what's on their screen with the sound quality to elevate their mood watching sports.
What Do People Say About it?
Amazon 
Upon reading the customer reviews of Bose 161 speakers on Amazon, we read the comment made by Charles E. Schumann. He said he's been an experimenter with speakers and their variables for around 45 years already since he has hearing damage and needs speakers that are more natural to listen to.
"Bose definitely [has] provided that for me, I can enjoy music again without hearing fatigue," he wrote.
For David H. Walker, he uses the Bose 161 speaker system in their dining and kitchen area. He placed it above their kitchen cabinets. "The sound is fantastic. I highly recommend these speakers," he added.
YouTube
Jinaa Ibraheem commented on a YouTube video about Bose 161 sound demo. He said that he updated his default Onkyo speakers with Bose 161 speaker system and "it's amazing now. It can give me crystal clear sound while playing songs and also while watching movies."
Bose and Friends compared the Bose 161 speaker system to Bose model 100 on YouTube. He mentions that while he likes the full-range sound of 100, the plastic material does not seem to respect the driver. 
On the other hand, with Bose 161 speaker system, "it does not respond very well" when he boosts the bass around 300 Hz during EQ (equalization).
The Verdict: Should You Try it Or Not?
Smallest, cheapest and highly versatile
Bose 161 speaker system has made cinematic home entertainment experience and surrounds sound more accessible and affordable to average homeowners. It is designed to deliver spacious, balanced sound with moderate or minimal amplifier power of 10 to 100 watts per channel.
What makes the Bose 161 speaker system also stand out from other conventional speakers is that it does not just radiate sound from one direction. Instead, it has Stereo Everywhere technology and Articulated Array drivers that balance the sound all throughout the room or listening area.
This is something an audio enthusiast would surely be glad to have. The Bose 161 speakers are probably the smallest and cheapest-price speakers but they are highly versatile.
If you like this review, you might want to check out our other reviews at SpeakerTune.com.
Amazon and the Amazon logo are trademarks of Amazon.com, Inc, or its affiliates.