As an Amazon Associate I earn from qualifying purchases.
Are you planning to put together a home theater system? If yes, then you know that there are a few components that you need. This includes a TV, a stereo receiver, a projector, and speakers.
You can either choose a floor-standing speaker that sits directly on the ground or a bookshelf speaker like Bose 201 and Bose 301 that are smaller compared to floor-standing speakers. Nevertheless, these bookshelf speakers can be placed on a table, stand, or shelf.
Both have their benefits, but the advantage of choosing a bookshelf speaker is that it can be placed in smaller spaces or be mounted on a wall at the corners of the room.
The flexibility of the bookshelf speakers makes them more appealing. But given the two choices of speakers mentioned, what is best in terms of audio performance and quality?
At SpeakerTune.com, we provide you an in-depth comparison on Bose 201 and 301 so you'll determine which unit has better features that suit your home theater needs.
TLDR: Bose 201 vs 301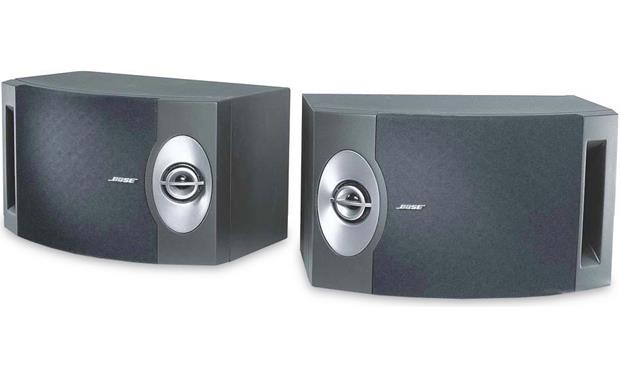 Product Description
Bose 201 Direct Reflecting Speaker
The Bose 201 Series V Direct Reflecting Speaker System are speakers meant to work with various amplifiers and stereo receivers as either rear or front channel speakers. 
The spacious and open features of these speakers make them a great choice for listening to music, radio broadcasts, and home theater.
Bose 201's Direct Reflecting Speaker technology likewise delivers a combination of direct and reflected sound, as if you are listening to a live concert. Watching a concert at home using these speakers will feel like you are in a front-row seat.
This is even better for someone who loves watching a football game or other sports events on a big screen TV. The live sound feature allows you to experience the emotion, impact, and power of a concert hall performance but at the comfort of your home.
Pros
Balanced stereo sound

Blend of direct and reflected sound, like a live concert

Works well with other amplifiers and stereo receivers

Suitable for a home cinema experience

Produces room-filling sound

The connector accepts cable type

Suitable for bi-wiring

Bluetooth connected

HiFi speaker
Cons
No magnetic shielding, which may affect nearby electric appliances
Bose 301
The Bose 301 Series V Direct Reflecting speakers create a natural balance of direct and reflected sound energy for a spacious and open performance.
Designed to bring high-quality listening pleasure, these 301 speakers are different from conventional speakers you see and hear nowadays.
The unique thing about Bose 301 speakers is that they have wide dispersion and a big sound despite having a small footprint. It is ideal for space-conscious homes.
It comes with an 8" woofer, which helps reproduce low and mid-range frequencies you hear, such as musical instruments, voices, and sound effects.
Many love that Bose 301 comes in a horizontal design. Bose designed 301 this way not just to stand away from the monotonous vertical bookshelf speaker design, but so that it will have a smooth and high-frequency spatial response.
Pros 
Fit into different decors, come in Black or Light Cherry finish

Bass-reflex design

Removable grille

10-150 watts recommended power with receivers (rated 4-8 ohms)

Equipped with automatic circuit protection

Comes with an 8" woofer in each speaker
Cons
Sound lacks detail and focus compared to audiophile speakers in the same price category

Not magnetically shielded, which means you need to place them at least 24 inches from the TV

Some people prefer the traditional vertical bookshelf speaker

Requires maintenance (cleaning the panels every month) for longevity
In-Depth Comparison: Bose 201 vs 301
Specifications
Bose 201
Physical Properties 
Color: Black
Depth: 22 cm
Width: 35 cm
Height: 20 cm
Weight: 5 kg
Material: Plastic
Speaker Properties
Impedance: 8 O
Speaker woofer diameter: 16,5 mm
Speaker Tweeter diameter: 6,4 cm
Placement of bass reflex port: Front
Number speaker units (per speaker):2
Speaker audio crossover: 2-way
Integrated subwoofer: No
Integrated tweeter: Yes
Integrated mid-range driver: No
Integrated woofer: Yes
Recommended amplifier power: 10 – 150 W
Bass reflex port: Yes
Bose 201 Bookshelf Speaker: Who is It Best For?
This sleek-looking speaker is ideal for people living in an apartment or with limited space. The size of this direct reflecting speaker is just 35 cm x 20 cm, which means it only takes up less physical space.
The sound quality of the 201 speakers is also best for people who like bass in the subwoofer.
This is ideal for classical music lovers because it allows an immersive listening experience. Even used at low-to-moderate volumes, you can still hear the vibrant and clear sound without distortion.
People who want a home theater experience will also benefit from the stereo sound of Bose 201. The speaker produces a balanced sound throughout the listening area and not just in a single direction.
If you like to change the interior and decor of your home, you will also like that this direct reflecting speaker is easy to set up and is lightweight enough to be transferred from one place to another.
Bose 301
Power Rating: 130W
Impedance: 4 – 8 ohms
Frequency Response Not Specified By Manufacturer
Crossover Frequency: Not Specified By Manufacturer
Low-Frequency Driver: 8″ Woofer
Shielded: Yes
Ported: Yes
Enclosure: Tuned port, molded ABS resin
Terminals: 5-way binding post
Dimensions (WxHxD): 9.75 x 14.25 x 9.75″ (246.3 x 360.6 x 246.3mm)
Weight: 13 lbs (5.8kg) (each)
Finish and Grille Color: Cherry, Black
Bose 301 Bookshelf Speaker: Who is It Best For?
The Bose 301 is best for people who enjoy casual listening. Those who enjoy a deeper and lean performance in lower notes, even at high volumes will likewise benefit from these Bose speakers series.
This is also chosen by movie enthusiasts who wanted to recreate a cinema experience in their homes.
The 301 specifically engineered where port geometry and woofer complement each other. Consequently, it reduces the speakers' air turbulence.
Best Places to Buy Bose 201 and 301 Bookshelf Speakers
You can purchase Bose 201 and 301 speakers series from Amazon or directly from the Bose page or official site.  You will be given a 90-day risk-free trial upon purchase so you shop with confidence.
What Do People Say About it?
Amazon
Bose 201 enjoys positive reviews from its users, especially those in the US. Jim Beamer said that he purchased the speakers to use as stereo speakers and eventually a home theater.
" I currently use these in my medium-sized bedroom to listen to music as well as watch movies/TV/Netflix, and they work very well for what I need them to do," Jim wrote.
Meanwhile, Jacob Monhollen highlighted that Bose 301 series speakers "sound good." "Super happy. They sound bigger than they are. They don't blast your face off, they just sound good regardless of volume.," he added.
YouTube
Kyle Kilgore shared a sound demonstration of the Bose 201 speakers. "All in all, I really like having these speakers and whenever I possibly can, I'm gonna get two more for the back, " he said referring to his room.
Joe N Tell admits on YouTube that he made a mistake that he measured (axis facing forward in the home to position it for better sound) the Bose 301 and "listened to them as if they were normal speakers… but they're designed differently," his video started.
The Bose 301 speaker system is meant to face forward since they have stereo targeting tweeters that are angled inward already. "Instead of creating a solid sweet spot, it creates a wider sweet spot so you can enjoy it no matter where you're sitting," he added.
The Verdict: Which One Should You Buy?
Any of the speakers mentioned in this product comparison is better than the other, depending on your room size. While both have bass reflex enclosures, Bose 201 has a slimmer design and is also lightweight compared to Bose 301.
In short, Bose 301 sounds perfect when installed in larger areas and Bose 201 is sufficient to fill up a room with limited space.
If you prefer the speaker with bigger woofers and has rear-firing tweeters, then go for Bose 301. Rear-firing tweeters create a sense of greater airiness and a wider soundstage in a room.
Bose 301 likewise delivers powerful audio compared to 201, even though the two are designed to adorn entertainment centers and shelves with clear and crisp audio.
Similar Articles:
Amazon and the Amazon logo are trademarks of Amazon.com, Inc, or its affiliates.